 Hyden
This vibrant town is situated an easy 3 1/2 hour drive east of Perth, Western Australia, via the Brookton Highway or the Great Eastern Highway via York. The Hyden and districts communities are well known for their initiative and go ahead attitude. Over the years, the community has established a Medical Centre (housing a Silver Chain remote nurse 5 days a week), a Recreation Centre, a Swimming Pool (open to the public during summer), and other similar projects. Most recently, an airstrip capable of taking large aircraft has been built and is a huge boost to the town. 
At the heart of the town is the Bush Shopping Village, which houses the local general store, newsagent, Australia Post, liquor store, clothes shop, art and craft supplies, butcher shop, library and licensing, bakery, hairdresser, beautician and chemist. Other businesses in town include Mitre 10 Hardware, Waveline Tyre Service, mechanic and auto electrical businesses, rural merchandise, a plumber, an electrician, an accountant, the local CRC, the local IGA, a second-hand shop and the National Australia Bank.
Street Scape Art
As you explore Hyden – stop off and see the sculptures made from old machinery, implements and scrap metal that tell the history of Hyden, from early times prior to settlement, through to the first tourists in the 1970's.
This project was initiated by local business owners, the Hyden Progress Association and funded by Wave Rock Tourist Development and Government grants. 12 locals volunteered for this project and started searching rubbish dumps for suitable bits and pieces of old farm machinery, implements and scrap metal. Some of these volunteers had never welded prior to this project, but soon became adept, thanks to the lessons they received from local farmers. Over four weekend workshops, the six initial sculptures were completed. A local farmer and sculpture extraordinaire continued with the theme and made most of the remaining pieces laden with aspects of his wonderful humour.
Other generous locals supplied limestone blocks for the plinth and the gravel fill. The Shire of Kondinin supplied the concrete path at the south end of the sculptures. Original mud bricks taken from a dilapidated local homestead were transported to the site and used to create a small mud-brick hut. This replicates the type of houses that pioneers built in the 1920s and 1930s. The bricks had been made originally for a house on a property east of Hyden that had been built in the 1930s by Tom Payne.
In later years – Coinus Collectus Echidna was installed. Funds collected were (and continue to be) gratefully received by the Hyden Progress Association for ongoing community projects.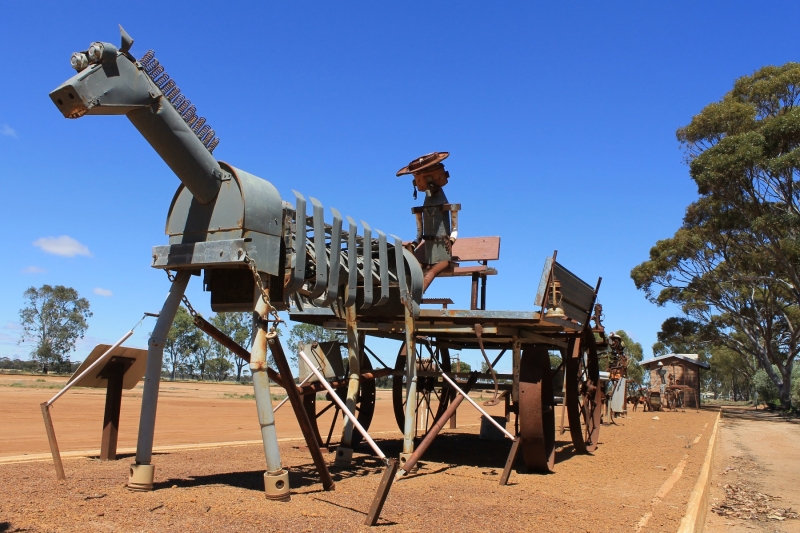 Attractions
Wave Rock & Hippos Yawn
Wildlife Park
Mulka's Cave
Wildflowers
Lake Magic
Salt Pool
The Lace Place
The Minature Soldier Museum
Pioneer Town History Museum
Hyden Street Scape Art
Stargazing Lounge
Events at Wave Rock
Accommodation
Hotel
Resort
Caravan Park
Camping
Backpackers
Tours and Trails
Walk Circut
The Rock Walk
Hyden Rock Walk
Hippos Yawn Loop
The Breakers Walk
Walk Trails and Guided Tours
Indigenous Tours
Information
About
Contact 
Acknowledgements
Getting to Wave Rock
Plan your visit
Travel Advice
Hire Car
Coach Tours
Flight Tours
Eat & Drink
Bar & Bistro 
Cafe
Sandalwood Restaurant
Gimlet Restaurant
Bush Bakehouse
Hyden Road House / Travel Stop
Wave Rock Hotel
2 Lynch St, Hyden WA 6359
Phone: +61 8 9880 5052
Fax: +61 8 9880 5041
Email: [email protected]
Wave Rock Caravan Park & Resort
1 Wave Rock Rd, Hyden WA 6359
Phone: +61 8 9880 5022
Fax: 08 9880 5018
Email: [email protected]