Explore the Humps and Mulka's Cave
A 15 minute drive north of Wave Rock you will see a "giant" lurching out of the bushland. This massive granite rock formation is known as the Humps – grab your hat, sun screen and water bottle and explore!
Walk Trails
Gnamma Trail (1,220 metres) On this trail are ten interpretive panels to help you understand this landscape using the words and illustrations of local Noongar elders and artists. It features two Gnamma (rock holes) and a lizard trap, all believed to have been used by Noongar people for centuries.
 Kalari Trail (1,670 metres) The trail climbs steadily (but not steeply) to the summit, which affords outstanding panoramic views of the outlying farming land. Interpretive signs focus on the fascinating geology of the rock and the plants that grow on it.
Mulka's Cave 
The name "Mulka" comes from an Aboriginal Legend associated with the cave. As you enter the cave (take a few moments for your eyes to adjust) and look at the walls and note the many hand stencils believed to representing adults and children. 
The stencils are made by placing the hand on the rock, then blowing over it with pigment. When the hand is removed, a negative impression remains.  Hand stencils were made for many reasons, but most commonly, they were used as a form of signature left by those who had rights to the area.
There are also some line paintings which are often outlined with the finger or with a fibrous twig dipped in crushed ochre mixed with water.
The age of the paintings is difficult to establish. Although research has shown Aboriginal culture to be at least 40,000 years old, archaeological excavations on the floor of Mulka's Cave suggest that use of this site was relatively recent. Stone artefacts and bone remains were found in association with old camp fires which have been dated to about 400 years old.
Aboriginal sites are protected under the Aboriginal Heritage Act and sites of outstanding significance may be declared Protected Areas. Rock Art sites are very rare in the southwest of WA, Mulka's Cave is both a Protected Area and is listed on the Register of the National Estate.
Public toilets and rubbish bins can be found in the Humps car park.
Information
Cost
Included in Wave Rock Entry Pass 
Hours
Accessible all year.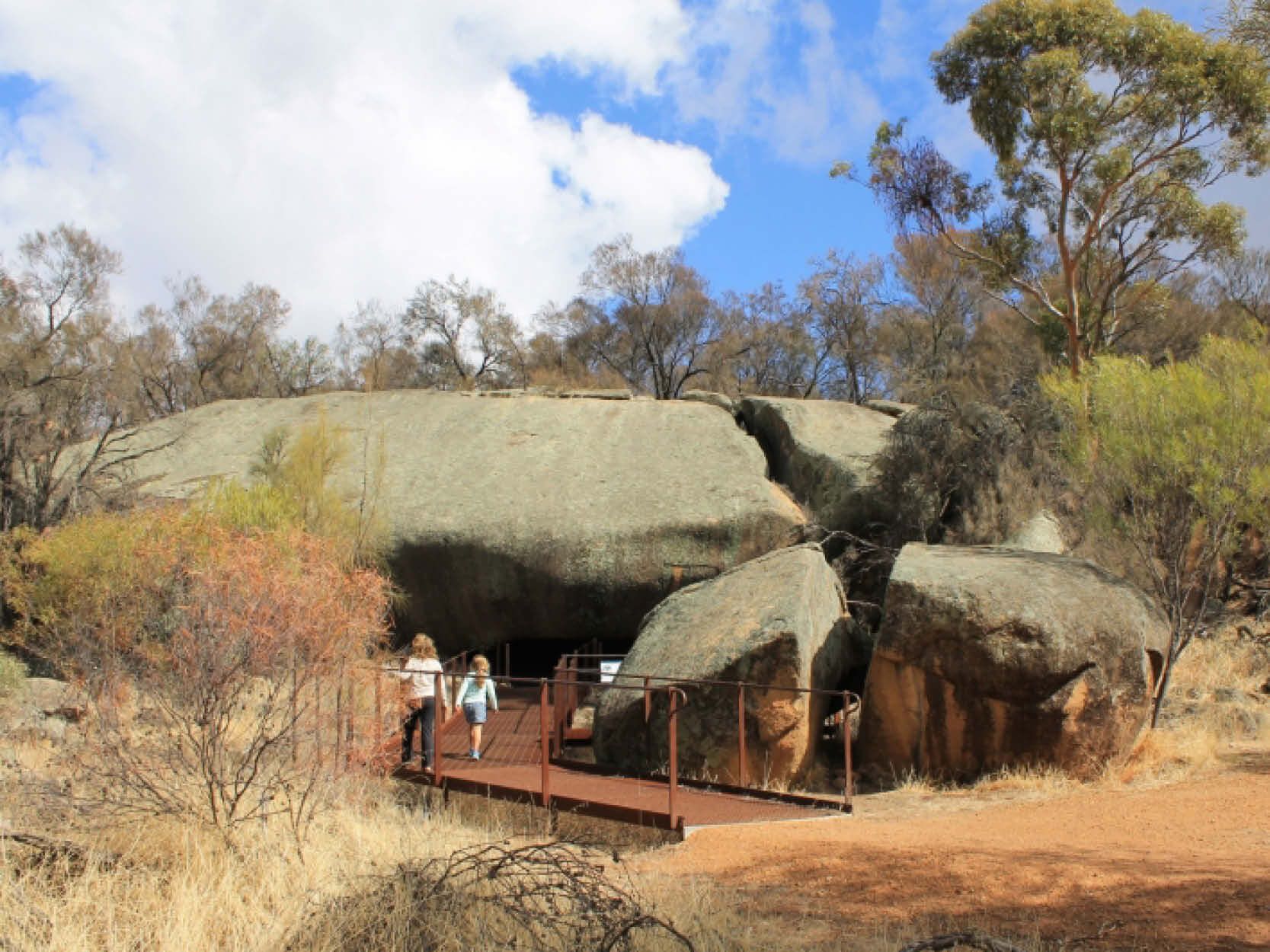 Attractions
Wave Rock & Hippos Yawn
Wildlife Park
Mulka's Cave
Wildflowers
Lake Magic
Salt Pool
The Lace Place
The Minature Soldier Museum
Pioneer Town History Museum
Hyden Street Scape Art
Stargazing Lounge
Events at Wave Rock
Accommodation
Hotel
Resort
Caravan Park
Camping
Backpackers
Tours and Trails
Walk Circut
The Rock Walk
Hyden Rock Walk
Hippos Yawn Loop
The Breakers Walk
Walk Trails and Guided Tours
Indigenous Tours
Information
About
Contact 
Acknowledgements
Getting to Wave Rock
Plan your visit
Travel Advice
Hire Car
Coach Tours
Flight Tours
Eat & Drink
Bar & Bistro 
Cafe
Sandalwood Restaurant
Gimlet Restaurant
Bush Bakehouse
Hyden Road House / Travel Stop
Wave Rock Hotel
2 Lynch St, Hyden WA 6359
Phone: +61 8 9880 5052
Fax: +61 8 9880 5041
Email: [email protected]
Wave Rock Caravan Park & Resort
1 Wave Rock Rd, Hyden WA 6359
Phone: +61 8 9880 5022
Fax: 08 9880 5018
Email: [email protected]